This page explains how to buy templates on Klariti.
It shows how to order templates, how can you pay (with PayPal or with Credit Cards), and how to download the template.
This page explains how the order process works. It shows you how to:
Submit an order
Pay with your credit card or PayPal, and then
Download the template
1. Place your Order
Here's how it works.
To get started, click the Buy Now button for the template you wish to buy. You can add more later if you wish. You can also remove items from your basket.
2. Review the Shopping Cart
This opens the shopping cart webpage.
Note: You don't need a Paypal account. If you prefer, you can pay with your credit/debit card. 
3. Pay with PayPal or your Credit Card
If you selected PayPal, it takes you to PayPal where you can pay for the order.
On the PayPal website, the Klariti logo and the total amount are displayed on the left of the page.
To pay with your credit/debit card, click the second option.
Click Pay with my PayPal account.
OR
Click Pay with a debit or credit card, or PayPal Credit.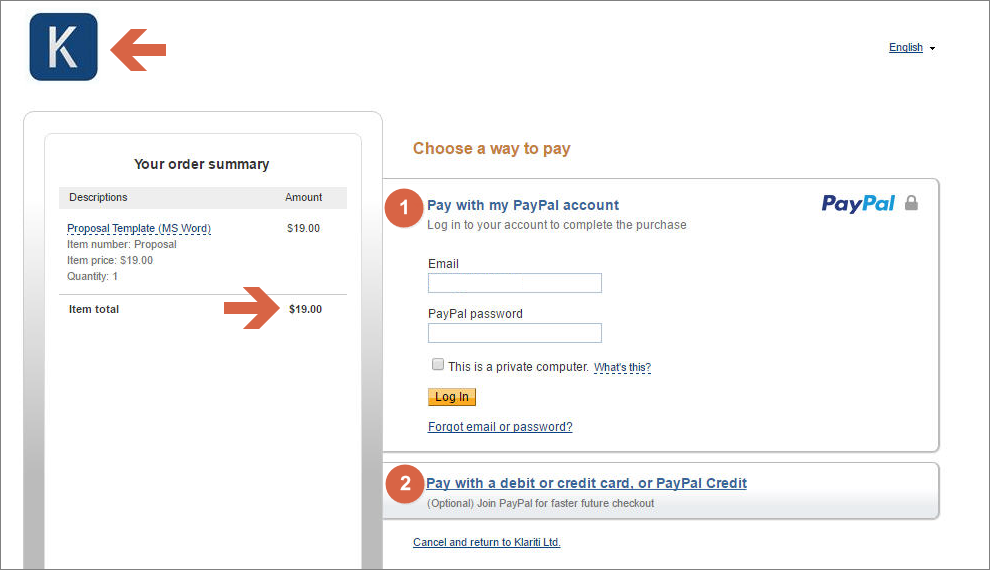 4. Check your Email
After you've placed the order, you'll receive an email with a link to the template.
Click the link in the email.
5. Download your Template
Download the template.
6. Contact Us
If there are any problems with the download, send me the order number and I'll take care of it.
Please email ivan@klariti.com or ivanawalsh@gmail.com.
7. Technical Support
I am here to help you with any questions. You can contact me directly if you need any helping using these templates.
Email: ivan@klariti.com / info@klariti.com
Tel: 00.353.860.886.349
WhatsApp: IvanAWalsh
As we're in Europe, there may be a time difference when getting back to you.
Again, if there are any problems, just let me know.
Regards,
Ivan